Once upon a time there was a

BIG BLOCKAGE

. Due to a nasty virus all over the world, everything ground to a halt. Stories, big ideas and amazing imaginations never stopped, of course – but getting them into books, then sent around the world took FOREVER. Things were well and truly STUCK. Then, one day in

February 2022

, things began to unclog, unblock and WHOOOOOSH… before long things were on the move once more. Brand new children's books began to appear on dusty, empty shelves. And the exciting world of shiny new books lived happily ever after.

Phew!
Yes, all being well, lots of fun bedtime animal stories will be whizzing into bookshops at the end of the month – to bring a dollop of cheer to storytime before bed (or any other time, for that matter).
Folk tales from around the world are originally told and illustrated to bring bedtime a touch of style. Sweet dreams guaranteed (almost).
There's nothing like a tale from deep among the trees to send you to sleep with a cheery chuckle, a satisfied sigh or a point to ponder…
Enjoy these collections of age-old stories getting a sparkly new twist…
You can read a couple more extracts

HERE 
Still interested? Then take a look at my interview about writing HERE
While on the subject of bedtime stories to send you to sleep with a smile (or just a whiff of the weird and wonderful), another 'story a night through a whole month' (lots of windows to open on the cover to show each night's tale) will be coming later. As a sort of Alice in Wonderland meets The Addams Family,

The Monster Ball

is packed with wacky characters preparing for the BIG NIGHT at the end of the month at spooky Graveside Manor – and yes, YOU are invited! More about this crazy caper coming soon, so watch this space…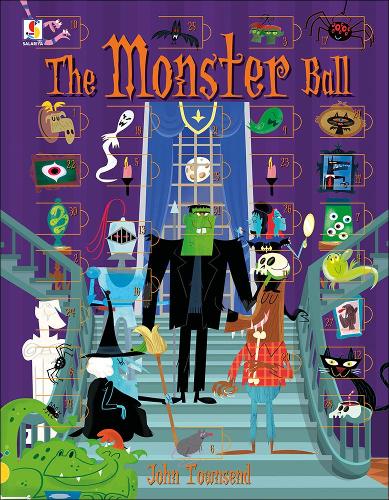 Plenty of other STORYTIME books should be coming soon as the world unlocks and unblocks through 2022. There'll always be SPACE for more books, as you can find out HERE with a quick quiz…   
Happy READING, LISTENING & SLEEPING!
Look at BOOKHYPE here to see my other books or below for LIVE from the CRYPT
Buy it now: https://t.co/ErsMGJOf9T

These books are perfect for children who love Drama class as there are lots of scripts inside that they can perform! Learn something new and have fun!#drama #historyteacher #lessons #fun #comedy #parenting #Creative #DigitalMarketing pic.twitter.com/tsNLdAOkO0

— The Salariya Book Co (@theSalariya) February 1, 2022
Pre-order it here: https://t.co/T9fnM5pUrj#booktok #kidsbooks #Space #storytime #fun #Parents #parenting #ChildrensBooks #writingcommunity #marketingcommunity #Creative #newbooks #exciting #Children #booklovers #colourful #authors #Illustrations #art #cartoon #BookTwitter pic.twitter.com/pK886u3G8W

— The Salariya Book Co (@theSalariya) February 5, 2022