Yes, it's time to restock those bookshelves in October for a jolly mix of wacky nonfiction, rhyming picture books and horrendous history. Plenty of new books are being published over the next months so here are a few to keep toddlers to teens reading, smiling and sparking…
Just imagine it – a new TV chat show where the guests on the sofa are long-dead characters from history. Meet them in the new series called 'LIVE from the CRYPT'. Discover personal secrets of the great, good and downright villainous in the Ghosts Reunited features and get to grips with all sorts via 'In a Nutshell' where historical background is explained simply within a minute by a visiting 'expert'. Plenty of comic-strip capers bring the past to ghostly life, as well as panel games and quirky quizzes. The first 4 titles of 10 are due out anytime soon. Click below to restock!

For those a little younger, there are 8 fun-filled picture books on the way, featuring the Scribble Monsters to give us a gentle nudge about manners. Whether they forget to say their pleases and thankyous, need a reminder about 'bathroom etiquette', picking up litter or being considerate to others, our little monsters have charming ways to help the wildest of us to become little well-mannered angels!
Meet the friendly Scribble Monsters who scribble lots of signs        And write how manners can be fun on all their scribbly signs…
Tracking and tracing seems to be the new normal – but how about in a new set of board books for little fingers that like to follow the trail then lift the flap? Plenty of wacky vehicles and funny characters are chugging towards us for soothing sensory bedtime sense-ations.
WARNING – It's here again…
Yes, October is the dreaded month of shivery spookiness. Look out for the new HALLOWEEN STREET to make you giggle in the dark!
The night that troubled Mr. Clark                                      Was Halloween – just after dark,                                     When children spot-on half past four                                 Came 'Trick or Treating' at his door…  (The full grisly story HERE)

Climb to the tower of the Creepy Castle – but beware the dungeon dweller! At midnight, visit the mad professor's Scary Lab, and then go to the Monster Mansion and Witch's Hut.  PHEW – finally you can relax and pop the books back inside the box to enjoy a  3D spook-scape! OOPS – BREAKING NEWS… Due to the pandemic, printing/deliveries have been held up so we'll have to wait until next year for this one!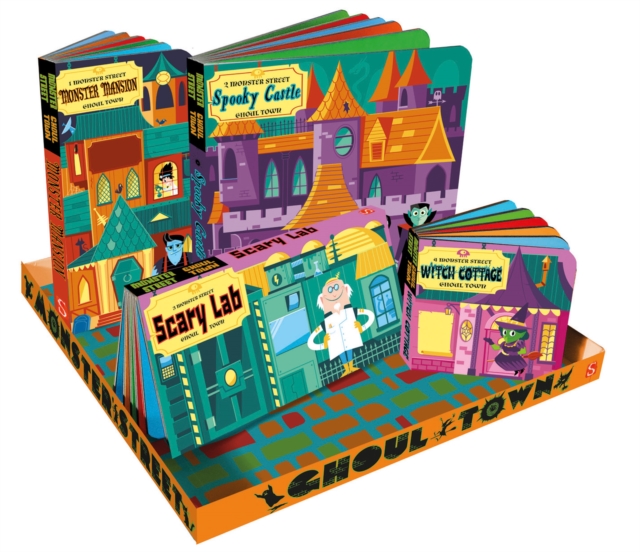 As if that isn't scary enough, brace yourself for more in the SHIVERS series – just on their way…  Don't have NIGHTMARES!

And FINALLY – but forever fantastically FABULOUS…..    

          Congratulations to Dawlish College Library for being awarded the Reading for Pleasure Award after our World Book Day

Extravaganza

.